Factory-Built, With a Wealth of Options
New York Times
By JAY ROMANO
September 1, 2002 - ORKED RIVER, N.J. - When Lillian and Joseph Tommasone decided to build a retirement home on waterfront land here, they started out by talking to local builders. After learning that designing and "stick building" a home could take up to a year, the Tommasones made some tentative inquiries about modular construction.
"My idea of modular was that you take two big boxes, a hot-glue gun, and you glue the boxes together," Mrs. Tommasone said.
But after talking to Guido and Laurie Aceto, the owners of Guido Construction in Lanoka Harbor, N.J., the Tommasones discovered that they could design just about any kind of home they might desire and that the house could probably be built as a modular in significantly less time than it would take to design and build a house from scratch.
"It was the best of both worlds," Mrs. Tommasone said. "We got to help design the house ourselves, and we could be in it by the fall."
In fact, after hiring Guido Construction at the beginning of the year to design and build their new home, the Tommasones conducted a final "walk through" inspection last Saturday and slept there that night.
The Tommasones are among a growing number of homeowners, builders and designers who are discovering that modular homes today are far different from those of just a couple of decades ago.
"Twenty years ago, the modular home industry probably deserved its `cookie cutter' reputation," said Fred Hallahan, principal of Hallahan Associates, a Baltimore-based consultant to the modular home industry. "But it doesn't deserve that reputation any longer."
Simply put, a modular home is one that is built in a factory - in two or more modules - and transported to a building site where the modules are set on a foundation and fastened together. After the house has been assembled, builders and other skilled workers complete the construction by connecting utilities, installing appliances and applying finishing touches to the interior. In some cases, Mr. Hallahan said, a builder will customize the modular home by "stick building" decks, porches, garages or breezeways.
Traditionally, he said, modular construction was considered to be just one notch above "double wide" mobile homes and other forms of "manufactured housing." Indeed, the first generation of modular homes were little more than nondescript rectangles sliced down the middle lengthwise.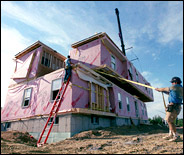 The last module of a 3,500-square-foot home is set in place in Clermont, N.Y. (Photo by Lucy Pemoni for The New York Times)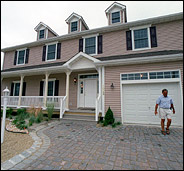 Joseph Tommasone at his new home in Forked River, N.J. (Photo by Lucy Pemoni for The New York Times)
Modular homes today, though, can range from simple Cape Cods to two-story colonials with porches and decks to large contemporaries that would rival in quality and appearance elaborately designed stick-built houses. And there are an increasing number of architects and designers who are focusing on designs that make extensive use of modular components.
The number of modular homes built in any given year is only a small fraction of the number of stick-built homes; Mr. Hallahan estimates that last year there were about 35,000 modulars constructed nationwide out of more than 1.6 million residential construction starts. He added, however, that a significant proportion of upscale modular home construction seems to be taking place in the Northeast, where there were about 9,600 modular homes built last year.
"The real future for the modular industry is building customized housing in the moderately upscale housing market," Mr. Hallahan said, noting that such housing is prevalent in much of the metropolitan area. "My own personal view," he said, "is that there is a huge untouched market for modular housing in the New York City area."
One reason modular construction has an advantage over stick-built housing in the metropolitan area, Mr. Hallahan said, is the region's high cost of labor and materials. Such costs are significantly reduced when a house is built in a factory using a system designed to maximize efficiency while minimizing waste of materials. "When you talk about the hard costs involved in building a house," he said, "there are distinct cost advantages that favor modular housing."
David Kaufman, executive director of the Building Systems Councils of the National Association of Home Builders in Washington, agreed.
"Modular housing has obviously come a long way," Mr. Kaufman said. "And we are seeing a growing number of stick builders getting into the modular industry." Mr. Kaufman cited a number of reasons that traditional builders make the move to modular: advances in the design and manufacturing capabilities of the modular home industry, the technical quality and durability of modular construction, and the difficulty that the builders have in finding skilled, reliable labor and subcontractors to work on stick-built homes.
Indeed, the very existence of Mr. Kaufman's organization - whose members include about 60 manufacturers of modular homes across the country - under the umbrella of the traditional builders' main trade group is testimony to the increasing interest in modular construction.
WHILE the quality of construction of an individual modular home will depend upon its manufacturer - just as the quality of a stick-built home depends upon the skill of the builder - Mr. Kaufman said that in most cases modular homes will be at least as well-constructed as stick-built homes.
"Building a house in a controlled environment using machines that eliminate human error means you can put together a modular house very soundly and with no structural problems," Mr. Kaufman said. In addition, he said, with no weather-related delays to endure in a modular factory and no subcontractors to wait for, a modular house takes less time to construct than a stick-built one.
And finally, he said, thanks to the use of machines to reduce labor and material costs, it is not unusual for a modular home to cost 5 to 10 percent less than a stick-built home. "Depending on the total cost of the house, 5 or 10 percent can be a significant amount of money," Mr. Kaufman said.
Richard Wambach, marketing and advertising manager for Chelsea Modular in Marlboro, N.Y., north of New Paltz, said that since modular homes must be transported to the job site and then lifted off the trailer and set in place with a crane, a module would typically be much more rigid than a house built using traditional construction methods.
For example, Mr. Wambach said, the floors of most stick-built houses will be made out of 2 inch by 8 inch floor joists, about 16 inches apart, covered by a single, nailed-on layer of decking - typically three-quarter-inch plywood - and surrounded by a 2 inch by 10 inch "rim joist," which provides stability for the floor joists and is used to attach to the floor to the foundation. With a modular home by Chelsea, on the other hand, the floor joists are covered with a double layer of half-inch decking that is glued and then nailed into place, and surrounded by a double layer of 2 inch by 10 inch lumber.
"With the double layer of decking, you don't feel any bounce whatsoever in the floor," Mr. Wambach said. "And the double-perimeter rim joists make the whole module rigid enough to be lifted by a crane."
From the time an order is placed, Mr. Wambach said, it takes a modular manufacturer from four to eight weeks to engineer and build a three- or four-module house. At several stages during construction, he said, the modules are inspected by an independent inspection agency to ensure that the house is being constructed in accordance applicable building codes.
While the modules are being built in the factory, Mr. Wambach said, the builder typically prepares the construction site by installing the foundation and utility connections, including a well and septic system if necessary. When both the site and the house are ready, the modules are transported by flatbed trailer to the site, where they will be set on the foundation by a crane.
"The truck and crane arrive with the work crew from Chelsea," Mr. Wambach said. "And in most cases, the entire house is set on the foundation in one day." After a house is set, it takes a builder four to eight weeks to complete construction.
Prospective homeowners have several options for finding modular homes, said Ken Seal, Chelsea's general manager. The easiest way to determine what is available is by going online and looking over manufacturers' Web sites. A state by state list of modular manufacturers is posted on the Building Systems Councils' Web site, www.buildingsytems.org.
Most manufacturers, Mr. Seal said, will have pictures and floor plans of the homes they build, as well as other information about modular construction. A buyer who wants to see a home in person can usually do so by visiting the factory. In most cases, a customer who decides to buy a modular home will be referred by the manufacturer to an affiliated builder who will then tailor the design to suit the customer's needs.
THE boxy look is a thing of the past," Mr. Seal said, explaining that when dealing with state-of-the-art modular manufacturers, customers can modify layouts, change room sizes, add dormers, alter roof lines and choose from any number of fixtures and appliances, including kitchen cabinets, counter tops, fireplaces and lighting.
In some cases, prospective homeowners find out about modular homes the same way the Tommasones did, by talking to a builder. "Most clients who come to me want to have a house stick-built," said Laurie Aceto, an owner of Guido Construction. "But because the industry is so busy now, I can't get a set of plans generated by an architect for anywhere from six to eight months."
Most modular housing manufacturers, however, employ architects and engineers who can take a design created by a homeowner or a builder and then adapt it so the home can be constructed in modules.
"When a customer settles on a modular home, we sit down and sketch it out, and I can have preliminary drawings back from the factory in a week," Ms. Aceto said. "And whatever parts of the design can't be done in the factory, we can stick-build on site."
Prospective homeowners who are looking for modular builders in their area can easily locate them on the Internet.
Steve West, chief executive of Homeworks, a modular builder in Ronkonkoma on Long Island, maintains an Internet site - "www.modularcenter.com" - designed to connect consumers with modular builders in their area.
"We have a network of more than 300 modular builders across the country," Mr. West said. "And we have architects affiliated with the site who can take just about any design and make it modular-friendly."
One designer affiliated with modularcenter.com is Ken Shuey of Madison, Conn., who has designed several hundred modular homes for builders and consumers.
"There are a number of things to keep in mind when you're designing a modular home," Mr. Shuey said. "First, you have to know what the factories can do, what they can't do and what's cost-effective. Then you have to design the home so that it doesn't look like a bunch of boxes stuck together. And finally, you have to make sure that the house can come down the road in pieces."
In fact, Mr. Shuey said, it is the last factor that places the greatest constraint on modular designers.
"In most of the Northeast, the standard module is 13 feet 9 inches wide and up to 62 feet long," he said, adding that while it is sometimes possible to transport modules in the Northeast that are up to 15 feet wide - depending on the roads that have to be traversed - doing so usually costs significantly more than transporting standard-sized modules. The roofs of modular homes, Mr. Shuey said, are typically designed to fold down to allow for passage under bridges and overpasses.
Mr. Shuey said one of the greatest benefits of modular construction is that the engineering of the design is done by in-house architects and engineers. "The nice part of my job is that I don't have to do any of the engineering," he said, adding that in addition to making sure that an architect's design can be constructed in a structurally sound manner, the manufacturer's engineers will ensure that the finished product will meet or exceed the building codes where the house is to be built.
Mr. Shuey pointed out that while a talented architect can design a modular house that would rival many custom-designed, stick-built homes, there are some designs that can be executed only by a traditional builder and some exacting traditional builders whose work surpasses even the best modular techniques.
"There are builders and then there are builders," Mr. Shuey said, "and you can't build everything as a modular home."
Once a customer has found a modular builder and has settled on a design, Mr. Shuey said, the design is executed by one of the scores of modular manufacturers scattered across the country.
"The better builders will know what the better factories are," he said, explaining that modular manufacturers generally do not deal directly with consumers but instead sell through affiliated builders. "Some factories specialize in relatively simple houses, and others specialize in custom designs."
The company that manufactured the Tommasones' house, Westchester Modular Homes in Wingdale in Dutchess County, N.Y., handles more elaborate designs.
"Twenty years ago, most modular manufacturers adopted the Henry Ford production-line theory of housing," said John Colucci, vice president of sales and marketing for the company. "You had a certain number of models to choose from, the options were minimal and you couldn't make a whole lot of changes."
As modular factories became more sophisticated, however, the options available to consumers grew.
"Now you can get a 5,000 square foot colonial with true cathedral ceilings," Mr. Colucci said, explaining that state-of-the art modular factories can adapt their production lines to the needs of a specific design. "And if there is something that we can't build easily in the factory, most builders can add it on in the field."
For example, because of size constraints imposed by wetlands regulations applicable to the Tommasones' lot - the finished house is about 60 feet wide and about 30 feet deep, the maximum buildable footprint of the lot - it was necessary for Guido Construction to stick-build a four-foot extension of the garage to provide space for the heating, air-conditioning and hot water systems.
Despite the fact that the two-story colonial house is constructed out of four rectangular modules, it has a custom-built feel. The first floor of the Tomassones' house for example, has an open floor plan with a two-story-high living room ceiling that makes it almost impossible to tell where the house's two front and two back modules were "mated." The house also has a windowed turret, reached by a second-floor balcony that looks down over the living room and out over Barnegat Bay.
"This is our dream house," Mrs. Tommasone said, standing behind the black granite countertop that slices diagonally through the kitchen, with a view of the bay. "And it's even better than I thought it would be."